CHRISISMS
A fortnightly pearl of wisdom to fast track your success
CHRISISM #28 - The Importance of Attitude
02 November 2016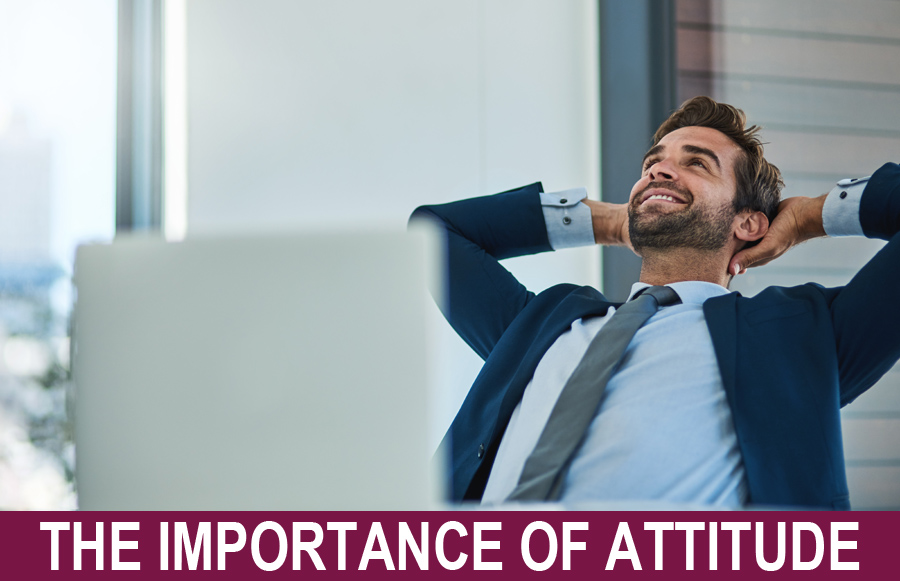 There are 5 component parts to the "Cycle of Success", namely Activity, Appointments, Sales, Enjoying Life and the Right Attitude and all are essential pieces of the jigsaw, but only one of the component parts acts as the catalyst for all the others and without which the whole cycle breaks down. Do you know which one it is?

Provided you are in the right environment i.e. an opportunity not a job (see Chrisism#4 ), then it is the right attitude that acts as the catalyst for everything else. The right attitude will produce the right level of activity which will in turn produce appointments which will produce sales which will create enjoyment of life which will maintain the right attitude.

Once all the component parts are connected the cycle is self perpetuating and will continue unless the Right Attitude breaks down.

So what is the right attitude? My view is that, if you had to sum up the right attitude in just one word, then that word would be belief, and it has to be 100% belief in 2 things – yourself and the opportunity. I don't think anyone in our industry has any reason to have anything short of 100% belief in themselves i.e. 100% belief in our ability to do the job. There is nothing technical or complex about any of the more important aspects of our day to day activity – it just requires a genuine passion for what you are selling and a willingness to engage positively with other people.

100% belief in the opportunity simply means that you know that, provided the right attitude is engaged, then all the other components of the cycle of success will follow.

Our business is as hard or as easy as you make it. Let's have a look at 2 distinctly different descriptions of our business. If you play a word association game with 2 different people in our business, one of whom is firing on all cylinders and killing it and the other can't catch a trick and is struggling bigtime, and you say to them both "Describe to me the business you are in with a number of single words or phrases", below are the results you will get:-
| | | |
| --- | --- | --- |
| Achieving Goals | | Missing Budgets |
| Success | | Failure |
| Sales | | Objections |
| Helping People | | Dealing with Idiots |
| Recognition | | Pressure |
| Holidays | | Work, Work, Work |
| Fun | | Stress |

How can this be the same business, you ask, and the answer is yes it's the same business but the difference is attitude or mindset.

Let's have a look at one more aspect of attitude before we finish up, and hopefully this will make your success in this business more achievable.

If you were to be asked "Why do sales people succeed?", I would guess you would put it down to motivation, self confidence, goal orientated, positive attitude etc. But this knowledge does not in itself make you successful, does it?

In my time in this business I have witnessed literally hundreds of people recognise an opportunity (the hard part), give it a go and fail. So why do sales people fail? Not having motivation, self confidence, goals and a positive attitude are merely symptomatic. I believe the real causes are:-

1) Rejection

"THE BAD"
2) FOWOPTOM – fear of what other people think of me


3) Call reluctance
These 3 things can be summed up in one word:- APPREHENSION 95% of apprehension in our business occurs at the prospecting stage → Less Apprehension (better mindset) = More activity (Cycle of Success).

I believe that the key to success is to get from a negative state of mind to a neutral state of mind in relation to "THE BAD" i.e. have more control over apprehension.

High achievers are NOT high achievers because they are positive about everything (how likely is that?!), but because they are neutral i.e. not bothered by "THE BAD".

If you have got value from this Chrisism, then you should know that the content forms just part of one out of eight sessions in my upcoming "Sales Skills for Financial Planners" workshop in all 5 major capitals, so register now using the appropriate link below and I look forward to seeing you there.


Register using the links below.
Cost: $450 + GST per person
Earlybird: $400 + GST per person
Time: 9.00am – 4.30pm
Book a ticket in your city below:
Adelaide - Thursday 10 November
Brisbane - Wednesday 16 November
Melbourne - Wednesday 23 November
---
The Risk Workshop by Chris Unwin

Are you a financial adviser who would like all of your clients to have appropriate types and levels of personal protection? But perhaps you feel you need a more structured and client friendly engagement process?