CHRISISMS
A fortnightly pearl of wisdom to fast track your success
CHRISISM #29 - The Until Philosophy
15 November 2016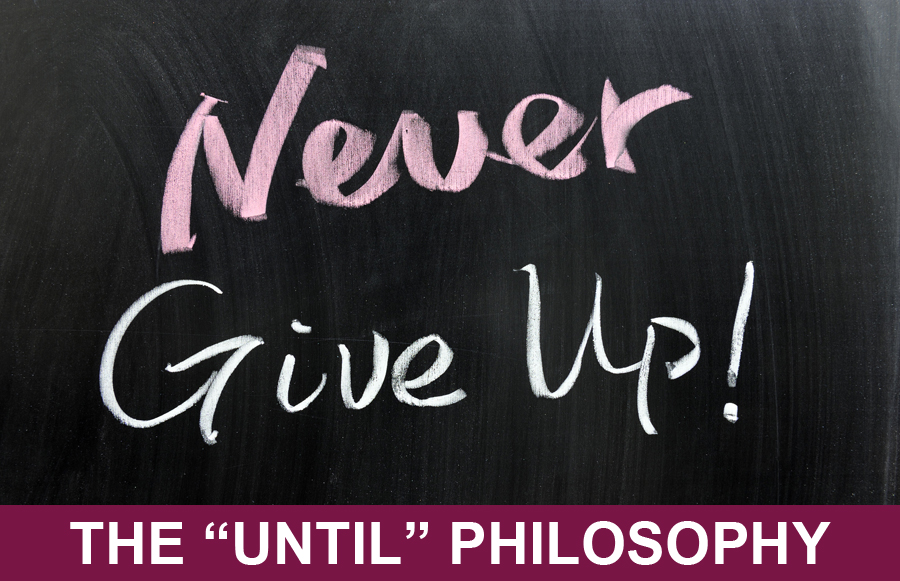 Have you ever expended time and effort agonising over whether you should persist with a potential client who is messing you around and procrastinating time after time? Do you want the solution?
I know that in the early days of my financial services career I spent a lot of time wondering to what extent I should hang in there with prospects who were repeatedly fobbing me off and rescheduling appointments or procrastinating at the final hurdle. The temptation was strong to just give up on them and move on to the next one.

But, especially when it came to the protection side of things, I found it difficult to contemplate how I would feel if I did give up on someone (especially someone well known or close to me), only to hear a short time afterwards that something terrible had befallen them (be it illness, accident or the worst case scenario) and they and/or their families were up the creek without a paddle financially. It was because of this fear that I created the "Until" philosophy.

What this meant was that as soon as a prospect became a first appointment in my diary, then there could only be two possible eventual outcomes:- either they would become a client or else they would literally have to tell me to go forth and multiply! Anything short of that and I would continue to hang in there. The important thing about the "Until" philosophy is that it is totally black and white – no grey area, and it is this that actually ended up saving me time rather than taking up more time, because I didn't have to waste any time wondering whether I should be persisiting with someone.

The main reason why I adopted the "Until" philosophy was because I realised that, if people were just fobbing me off and procrastinating but not going as far as telling me to go forth and multiply, then what they were really saying was simply that the timing wasn't right, and I as long as I kept in their ear (in the nicest possible way – like a 'friendly mosquito'!) , then it was only a matter of time until the timing was right and they came on board as a client.

Just to give you an idea how black and white this philosophy became for me, the most extreme example of it was a cold client back in the UK who rearranged his first appointment 57 times (I kid you not!) before he finally pitched up – and I think he was probably the easiest sale I ever had! Most people put up their resistance at the tail end of the process when faced with a financial commitment, but this guy put up all his resistance at the front end – once he actually walked through the door it was a done deal! And more importantly, he also gave me more referrals than any other client of mine, because he really believed in the value of what he had done and he knew I wouldn't let his referrals off the hook and therefore they would benefit in the same way!

So pursue the "Until" philosophy and never put yourself in the situation where you have to look in the mirror after a prospect suffers a major illness or accident or dies prematurely without any cover in place and ask the question "Could or should I have done more?".

If you have found this Chrisism useful, then consider that it just one of 5 "Building Blocks of Closing Business" that represents one of 8 separate sessions in my upcoming "Sales Skills for Financial Planners" workshops in Melbourne and Sydney over the next 2 weeks. Just click on the links below for details and registration.
Register using the links below.
Cost: $450 + GST per person
Earlybird: $400 + GST per person
Time: 9.00am – 4.30pm
Book a ticket in your city below:
Melbourne - Wednesday 23 November
---
The Risk Workshop by Chris Unwin

Are you a financial adviser who would like all of your clients to have appropriate types and levels of personal protection? But perhaps you feel you need a more structured and client friendly engagement process?